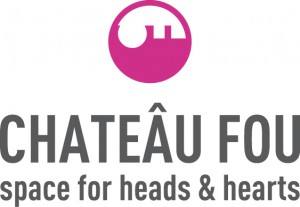 "Château Fou is exact­ly what you´d expect of the Berlin co-work­ing expe­ri­ence. The atmos­phere is ide­al for all cre­ative endeav­ours and it´s a great place to bounce ideas with oth­er cre­atives."— Alon­so Dominguez, Cre­ative Direc­tor, sug­arhigh Pub­lish­ing
Das Château Fou, ein­er der ersten kuratierten Co-Work­ing-Spaces für kreative und nach­haltige Entre­pre­neure und Medi­en­schaf­fende in Berlin, gegrün­det und geführt von Yas­mine Orth, schliesst nach fast 6-jähriger Tätigkeit im Sep­tem­ber 2014 seine Pforten. Fast ins­ge­samt 50 Free­lancer, Entre­pre­neure und small Busi­ness­es haben hier an zwei wun­der­vollen Orten, ihre Grün­dung oder auch Expan­sion erfahren und sind weit­er­hin erfol­gre­ich etabliert.
Die Idee stammte aus dem Bedürf­nis her­aus, kreativ­en Entre­pre­neuren, die mit ihrem Herzen am recht­en Fleck und inno­v­a­tiv­en Kopf, eine agen­turähn­liche Struk­tur und beru­flich­es zu Hause zu bieten, um miteinan­der zu wach­sen, sich gegen­seit­ig zu inspiri­eren und zu helfen und natür­lich auch miteinan­der zu arbeit­en. Kernziel­gruppe waren dabei Frauen, später auch Müt­ter, um den Net­zw­erkgedanken unter Frauen weit­er zu kul­tivieren.
Das Chateau Fou find­et seine Fort­set­zung nun im THE LOVERS SPACE.
---
---
Ex-Château Fou´s (Château Fou I, Hackescher Markt)

Marc-Oliv­er Dresch­er (Copy­writer, Con­sul­tant)
Eva Kac­zor (Social Media, Con­cep­tu­al Design­er)
Jan Joswig (Jour­nal­ist)
Telse Bus (Food-con­cep­tu­al-design­er)
Ken Yamamo­to (Direc­tor)
Lena Emery (Pho­tog­ra­ph­er)
Romy Uebel (Jour­nal­ist)
Tom Gläs­ner (Busi­ness Con­sul­tant)
Ali Dowlat­shahi (Inte­ri­or Design­er)
Arzu Bulut (Con­sul­tant, Inter­cul­tur­al Con­nec­tor)
Han­neke van der Tas (Film­pro­duc­er)
Kathrin Bade (Inte­ri­or Archi­tec­ture, Set­de­sign)
Alon­so Dominguez (sug­arhigh pub­lish­ing)
Hil­da Hoy (sug­arhigh pub­lish­ing)
Kata­jun Fakhoury (Wahre Werte, Loca­tion-Ver­mark­tung)
Lisa Wege (Wahre Werte, Loca­tion-Ver­mark­tung)
Nina Vollmer (zook­ie, Graph­icde­sign, Illus­tra­tions)
Christin Bet­ting­haus (Pho­to­pro­duc­er, Pho­toed­i­tor)
Claris­sa Labin (Fash­ion Design­er)
Lise Udu­ak (Urban explor­er)
Kol­ja Stege­mann (mar­ket­ing & sus­tain­abil­i­ty)
Andrea Kolb (ABURY, com­mu­ni­ca­tion, social busi­ness)
Patrick Ulmer & Axel Johan­nis aka LOVETO (cam­paigns, strat­e­gy, PR & mar­ket­ing)
Nina Hopf (Lula Design, Graph­ic Design­er)
Sascha Kaus (even TV, TV pro­duc­tion, mov­ing image, edi­to­r­i­al)
---
Ex-Château Fou´s (Château Fou II, Schönhauser Allee)

Petra Zlat­evs­ka (Cre­ative Writ­ing, inter­na­tion­al project con­sult­ing: cul­ture, media, not-for-prof­it)
Alex Bohn (Styling, Jour­nal­ist)
Nicole Zepter (The Ger­mans, Jour­nal­ist)
Rahel Mor­gen (Büro Mor­gen, Con­sul­tant, Com­mu­ni­ca­tion)
Kati Krause (Jour­nal­ist, Dai­ly­mo­tion Coun­try Man­ag­er)
Beti Mizrahi (Graph­ic Design­er)
Maja Göpel (Author, Cam­pag­n­er)
Brit­ta Smyrak (Smart fam­i­ly trav­el)
Son­ja van Dül­men (Graphik & Gestal­ten, cor­po­rate design, dig­i­tal mixed media)
Fred­er­ic Antelme (Con­sul­tant)
Andrea Bauer (dig­i­tal or mobile strate­gist)
Nina B. Fis­ch­er (Lead­er­ship Coach)
Mar­i­on King (Coach & Con­sul­tant)
Natascha Beck­er (IT Spe­cial­ist)
Isa Grütet­ing & Clau­dia Kah­nt (Haupt­stadt­mut­ti)
Lena Mahr (Art Direc­tion)
Car­o­line Ros­ales (Jour­nal­ism, writ­ing, "Stadt Land Mama")
Mater­ni­ta (Uli Käfer, ex Loth, Inga Sar­razin)