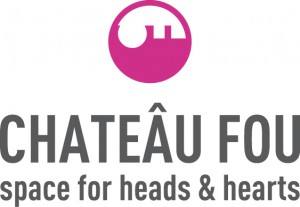 "Château Fou is exactly what you´d expect of the Berlin co-working experience. The atmosphere is ideal for all creative endeavours and it´s a great place to bounce ideas with other creatives."— Alonso Dominguez, Creative Director, sugarhigh Publishing
Das Château Fou, einer der ersten kuratierten Co-Working-Spaces für kreative und nachhaltige Entrepreneure und Medienschaffende in Berlin, gegründet und geführt von Yasmine Orth, schliesst nach fast 6-jähriger Tätigkeit im September 2014 seine Pforten. Fast insgesamt 50 Freelancer, Entrepreneure und small Businesses haben hier an zwei wundervollen Orten, ihre Gründung oder auch Expansion erfahren und sind weiterhin erfolgreich etabliert.
Die Idee stammte aus dem Bedürfnis heraus, kreativen Entrepreneuren, die mit ihrem Herzen am rechten Fleck und innovativen Kopf, eine agenturähnliche Struktur und berufliches zu Hause zu bieten, um miteinander zu wachsen, sich gegenseitig zu inspirieren und zu helfen und natürlich auch miteinander zu arbeiten. Kernzielgruppe waren dabei Frauen, später auch Mütter, um den Netzwerkgedanken unter Frauen weiter zu kultivieren.
Das Chateau Fou findet seine Fortsetzung nun im THE LOVERS SPACE.
---
---
Ex-Château Fou´s (Château Fou I, Hackescher Markt)

Marc-Oliver Drescher (Copywriter, Consultant)
Eva Kaczor (Social Media, Conceptual Designer)
Jan Joswig (Journalist)
Telse Bus (Food-conceptual-designer)
Ken Yamamoto (Director)
Lena Emery (Photographer)
Romy Uebel (Journalist)
Tom Gläsner (Business Consultant)
Ali Dowlatshahi (Interior Designer)
Arzu Bulut (Consultant, Intercultural Connector)
Hanneke van der Tas (Filmproducer)
Kathrin Bade (Interior Architecture, Setdesign)
Alonso Dominguez (sugarhigh publishing)
Hilda Hoy (sugarhigh publishing)
Katajun Fakhoury (Wahre Werte, Location-Vermarktung)
Lisa Wege (Wahre Werte, Location-Vermarktung)
Nina Vollmer (zookie, Graphicdesign, Illustrations)
Christin Bettinghaus (Photoproducer, Photoeditor)
Clarissa Labin (Fashion Designer)
Lise Uduak (Urban explorer)
Kolja Stegemann (marketing & sustainability)
Andrea Kolb (ABURY, communication, social business)
Patrick Ulmer & Axel Johannis aka LOVETO (campaigns, strategy, PR & marketing)
Nina Hopf (Lula Design, Graphic Designer)
Sascha Kaus (even TV, TV production, moving image, editorial)
---
Ex-Château Fou´s (Château Fou II, Schönhauser Allee)

Petra Zlatevska (Creative Writing, international project consulting: culture, media, not-for-profit)
Alex Bohn (Styling, Journalist)
Nicole Zepter (The Germans, Journalist)
Rahel Morgen (Büro Morgen, Consultant, Communication)
Kati Krause (Journalist, Dailymotion Country Manager)
Beti Mizrahi (Graphic Designer)
Maja Göpel (Author, Campagner)
Britta Smyrak (Smart family travel)
Sonja van Dülmen (Graphik & Gestalten, corporate design, digital mixed media)
Frederic Antelme (Consultant)
Andrea Bauer (digital or mobile strategist)
Nina B. Fischer (Leadership Coach)
Marion King (Coach & Consultant)
Natascha Becker (IT Specialist)
Isa Grüteting & Claudia Kahnt (Hauptstadtmutti)
Lena Mahr (Art Direction)
Caroline Rosales (Journalism, writing, "Stadt Land Mama")
Maternita (Uli Käfer, ex Loth, Inga Sarrazin)