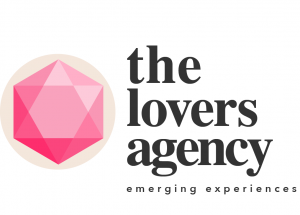 seit Januar 2016
Unsere Vision ist es, Menschen und Unternehmen bei der Entwicklung ihres Potenzials zu unterstützen. Wir konzipieren sinnstiftende Strategien und ermögichen ganzheitliches Empowerment.
Wir sehen uns als ein Netzwerk der "Enabler of the Enablers".
Unsere Agentur THE LOVERS AGENCY beruht auf der langjährigen Agentur- und Netzwerkarbeit von creative connectors und dem goerlzclub. Im Laufe der letzten 15 Jahre haben wir ein großes Netzwerk an aktiven, kreativen Movern, Change Makern, Innovatoren, Media Professionals und Coaches aufgebaut und viele eigene Formate initiiert. Wir profitieren von einen Netzwerk von professionellen Freelancern und Partnern.
Unsere Themenschwerpunkte
Female Empowerment & Leadership
Gesundes Leben, Ernährung
Holismus & Hedonismus
Yoga, Meditation, Coaching und Empowement
Vereinbarkeit Familie & Beruf
Private Life – Work- Balance