Datum/Zeit
Date(s) — 01/07/2016 — 03/07/2016
16:00
Ver­anstal­tung­sort
Foxberghof
Kat­e­gorien
Unten find­est Du den Preis für das THE LOVERS-RETREAT-PACKAGE.
Verpfle­gung und Unterkun­ft wer­den extra berech­net und vor Ort fäl­lig. Wir kom­men wg. der Zim­mer­re­servierung geson­dert auf Dich zu!
Wir haben nur lim­i­tiert Platz. Bitte buche/rerserviere unten Deinen Platz und gebe Deine per­sön­lichen Dat­en ein.
Wenn Du Deinen Platz buchst, stimmst Du unseren Teil­nah­mebe­din­gun­gen zu!
Um die finanziellen Risiken zu min­imieren, empfehlen wir bei Aus­fall durch Krankheit etc., eine Work­shop- und Sem­i­narver­sicherung abzuschliessen. » Infos und Buchung

Wenn Du vor­ab Fra­gen hast, schicke uns eine Email: urbanlibertines@the-lovers.net
Bitte über­weise hier­hin den Betrag für das THE LOVERS-RETREAT-PACKAGE mit Deinem Namen und dem Zweck: Urban Lib­ertines "Con­scious Liv­ing — Retreat", 01.07.–03.07.2016
Yas­mine Orth, The Lovers Agency
GLS Bank Berlin
IBAN DE50 430609671130276801
SWIFT GENODEM1GLS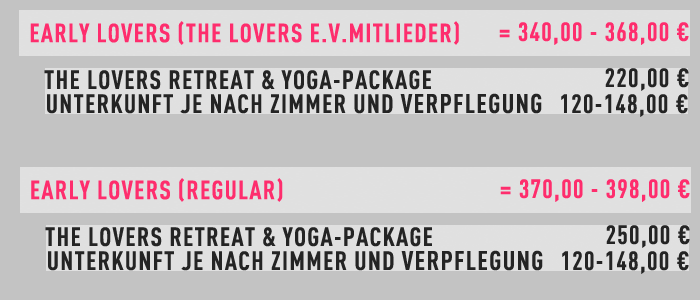 Ear­ly Lovers bis 05.06.2016
---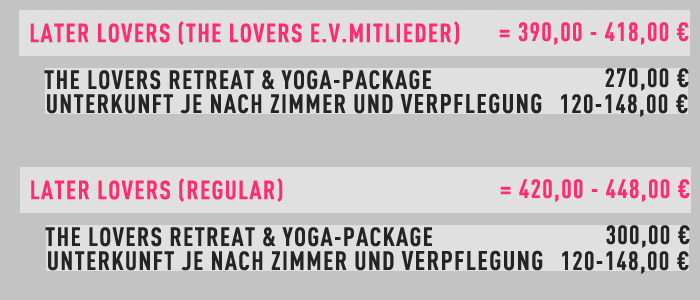 ---
Werde Mit­glied bei unseren Vere­in Förderini­tia­tive The Lovers e.V.
Alle Preise sind inklu­sive 19% Mwst
Bookings
Buchun­gen sind für diese Ver­anstal­tung geschlossen.