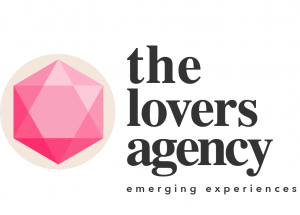 CREATIVE LEADERS FOR A CONSCIOUS LIVING
WHAT THE LOVERS DO
LEAD WITH LOVE. The Lovers Agency verknüpft moderne Menschen mit modernen Marken. Sie entwirft mit Herz und Kopf zukunftsfähige Strategien, Ideen und Lösungen für ganzheitliches Empowerment und bewusstes Leben. Dabei steht der Mensch mit seinem neuen Selbstverständnis von Karriere + Familie, Holismus + Hedonismus, Urbanität + Natur, Ethik + Ästhetik, uralten Weisheiten + moderner Technologie im Vordergrund.
---
THE LOVERS CONSULTING
Beratung / Kommunikation / Konzeption / Events
THE LOVERS ACADEMY
Events / Salons / Workshops / Retreats / Seminare
Pop Ups / Events / Coworking / Coaching-Raum / Lovers-Shop
THE LOVERS PRODUCTS/SHOP
Entwicklung / Distribution / Verkauf / Merchandise
---
Unsere Services
Consulting & Conception
Formate: Seminare, Retreats, Workshops, Symposien, Events
Strategie, Dialoggruppen, Massnahmen
Trendrecherche, Fokusgruppen, Marktforschung
Communication
Communication & Media Relations
Content creation (Online, Advertorials, Interviews/Portraits)
Corporate Publishing
Cooperations
Seeding & Endorsement, Produkt-Testing
Gästemanagement (Kreative Macher & Innovatoren, movers & shakers, VIPs)
Connecting & Community Aufbau
Location scouting (Beratung & Vermittlung)
Job recruiting, Casting & Headhunting
Sprecher- und Experten-Recruiting für Konferenzen (besonders Frauen)
---
Partnership // Signature Events
THE LOVERS' HEART
Salon Mondaine
Female Empowerment and Leadership
Seit 2010 kreiert der Salon als Symposiums-Format einen inspirierenden Raum für nachhaltige Transformation und Weiterbildung. Als Networking Plattform brachte er in entspannter Atmosphäre in bisher 16 Salons über 2000 weibliche Gäste zusammen und 60 wegweisende Unternehmerinnen auf die Bühne. Wir laden beeindruckende Vorbilder ein, die aktiv ihr Leben und Business gestalten. Wir präsentieren neben Business-Insights und Trends, ihre erfolgreichen A-Seiten, lernen aber auch von ihren herausfordernden B-Seiten und Lösungswegen. Immer im Fokus: Ein Impuls, die Welt zu einem sinnvolleren Ort zu machen und die persönliche, ganzheitliche, berufliche Entwicklung als moderne Frau.
Urban Libertines Salon
Creative & Holistic Journeys in der Stadt
Yoga- & Meditationsworkshop mit bis zu 100 Frauen & Männer. Seit 2012, und immer zu den Jahreszeitenwenden, haben wir bereits 14 Salons veranstaltet, mit Performances & etablierten YogalehrerInnen des Landes, im Rahmen eines 2,5-stündigen Yoga und Meditations-Workshops. Der Salon ist immer wieder eine neue Reise, Labor und Marktplatz für neue, moderne und urbane Formen von Yoga und Meditation.
Retreats
Coaching – & Yoga-Workshops in der Natur
Zur Vertiefung unserer Salons und um bewusstes Leben, Vereinbarkeit und Leadership wirklich umsetzen und integrieren zu können, veranstalten wir seit 2016 unsere "Conscious Living" und "Female Empowerment & Leadership" Retreats mitten in der Natur. Mit einem festen Lovers-Teacher-Team und Gastlehrern und Coaches, sowie gesundem Essen.
---
Unsere Zielgruppe
THE LOVERS MOVERS
Hinter THE LOVERS steht eine Bewegung von Frauen und Männern, die voll im Berufs- und/oder Familienleben stehen und alle diese Rollen auch ausfüllen — mit dem Ziel von mehr Leichtigkeit und Vereinbarkeit der verschiedenen Lebensbereiche. Sie stammen aus der Kreativ-, Kommunikations- und Digitalwirtschaft und sind UnternehmerInnen, InnovatorenInnen, MeinungsführInnen, TrendsetterInnen, JournalistInnen und BloggerInnen. Moderne Frauen und Männer, die eher in der Großstadt leben als auf dem Land, überdurchschnittlich gebildet, vielseitig interessiert, kreativ, mobil und bemüht um eine bewusste Lebensführung und Nachhaltigkeit.
---
Ziele
WHAT LOVERS WANT
Female Empowerment & Leadership
Integration von komplementären Teams, ausbalanciertes Rollenverständnis
Neue Formen des Zusammenlebens und Zusammenarbeitens
Potentialentfaltung und Wachstum, Soziale Nachhaltigkeit
Community und "Urbane Sippe", Slow Living und Conscious Consumption
Change Maker, Transformation und Balance
Erfahrungsräume schaffen, Kontexterweiterung